No more Back, Shoulder and Neck Pain!

Not sold in stores!
A new 2019 memory cotton pillow is designed to prevent your arms from going numb while you sleep. Greet the day in the best possible condition. It's perfect for couples and makes your relationship closer. It can also be used for normal naps, with your hands in an optimal position.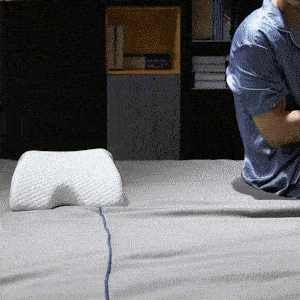 ✅ CAN HELP EASE NECK, SHOULDER AND BACK PAIN: The gentle, contoured slope of these pillows supports the neck and shoulders and may help alleviate any tension or stiffness in the spinal column by promoting proper spinal alignment.
✅ ESSENTIAL CUSHION: Improves circulation for side sleepers, the pillow will feel softer in warm and firmer in cold temperatures. The pillow will also react to your body heat by yielding and softening throughout the night.
✅ IMPROVED SLEEP QUALITY: Using high-quality materials and padded cotton, a comfortable touch can relax your body and mind.
✅ PROTECT YOUR ARMS: The unique hollow design at the bottom of the pillow prevents numbness in the arms during sleep.
Shipping:
We process orders between Monday and Friday. Due to the fact that this item is

not sold in stores which leads to extremely high demand

orders may take up to 1-2 weeks

. We don't ship on weekends.
After your order has been shipped, you can track it here.
Specifiation:
Material: Ice silk+100% Polyurethane pillow core+ABS plastic steel frame.
Size:

35 x 30 x 13 cm (

14*12*5 inch)
Weight: 530g
Features:
Ergonomic design, effective fit to the human cervical vertebrae, soft support, cervical vertebra comfort.
Providing perfect support: With a curved shape design, this memory foam pillow can perfectly place the arm under the pillow to prevent the arm from being pressed during the sleeping journey and causing pain. 
New design quality memory foam: Luxury memory foam filling with 5 seconds return technology, comfortable and durable, cushioning the body and relieving painful pressure points, bringing ultimate relaxation.
The best choice for couples: When a couple is sleeping, use this pillow to hug your partner, dont worry about arm numbness. It is also great for naps, making it easier to work in the office. You can also buy for relatives, friends and parents. This is the perfect gift.